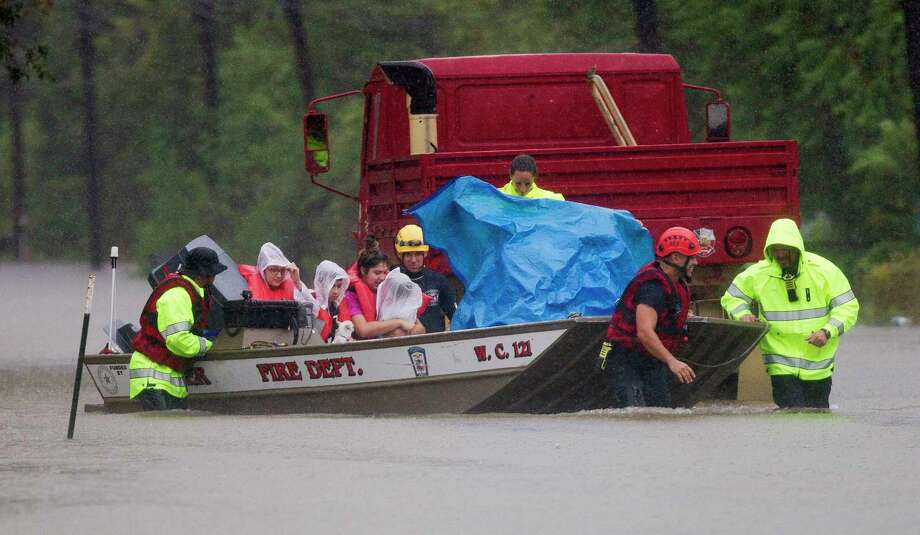 Photo: Jason Fochtman, Staff Photographer
Porter fire fighters evacuate a family by boat from a neighborhood off East Knox Drive, Sunday, Aug. 27, 2017, in Porter.
The City of Conroe, stating that flooding is imminent, is calling for more than a dozen communities to evacuate in response to the record release of water from the Lake Conroe Dam.
Areas of evacuation include:
McDade Estates – Evacuate
River Plantation – Recommended
Woodhaven Forest – Recommended
Artesian – Recommended
Riverbrook Drive & Sherbrook Circle (East of I45 @ 1488) – Recommended
Neighborhoods off of FM 2854 – Recommended
Neighborhoods Downstream from McDade Estates – Recommended
With approximately 200 homes, McDade Estates in West Conroe off of FM 2854 west of Loop 336 West, has been prone to flooding as it sits along the West Fork of the San Jacinto River, downstream from the Lake Conroe Dam.
River Plantation also is a large community south of Conroe, just east of Interstate 45, that is next to the San Jacinto River and has experience flooding during previous major storms and water releases.
"Continued flooding is expected throughout the week. Heavy rains and rising water levels continue to occur around the City of Conroe and surrounding region," the city stated in a release early Monday morning. "Any areas that may be affected should take action immediately and find a safe location. A flash flood warning is in effect for residents of Conroe.
The city plans knocking door to door to alert McDade Estates residents, who expressed concerns to The Courier Friday about the potential of devastating flooding from a lake water release.
Around 2:15 a.m. Monday, the San Jacinto River Authority, which manages the water at Lake Conroe, announced record release rates are in effect.
According to the SJRA, the Lake Conroe water level has risen to 205.88 feet above mean sea level (MSL), breaking the previous record water level for the lake of 205.60 set during the storms of 1994.
The current release rate from Lake Conroe is 73,201 cubic feet per second (cfs), more than doubling the previous record set in 1994 of 33,360 cfs. Since before 4 a.m. Saturday, the lake has received 18.5 inches of rain on the north side by FM 1097 and 20.25 inches near the dam.
"Hurricane Harvey has created an extreme weather event for the entire Houston region, and SJRA personnel are working around the clock to deal with the tremendous amounts of rainfall that are impacting the watershed," the SJRA stated in a release.
The City of Conroe also stated other areas would be evacuated by the county due to the flooding expected along the San Jacinto River.
"Public Safety Officials have been overwhelmed by the number of calls and are currently prioritizing calls as they come in," the city stated. "Many roads are closed or experiencing high water and city crews are working diligently to clear the roadways for emergency personnel. If you are not evacuating, the City of Conroe is encouraging Citizens to stay where they are until it is safe to leave."
As previously reported, rivers and creeks downstream from the Lake Conroe Dam are expected to reach major flood levels today.
SJRA release rates are available at www.sjra.net.